Suspense Account Management: The borrower's money is stored in the suspense account until the loan servicing firm decides where to allocate the funds. The money can be used to pay for property tax, homeowners' insurance, late fees, escrow, etc. A bot can find all loans labeled delinquent, move money from the loan holder's suspense account to pay the delinquent loan, and then change its status to non-delinquent. Once the bot completes this process, an excel report with current loan status and what payments were made for each loan is sent to the loan administration supervisor via email.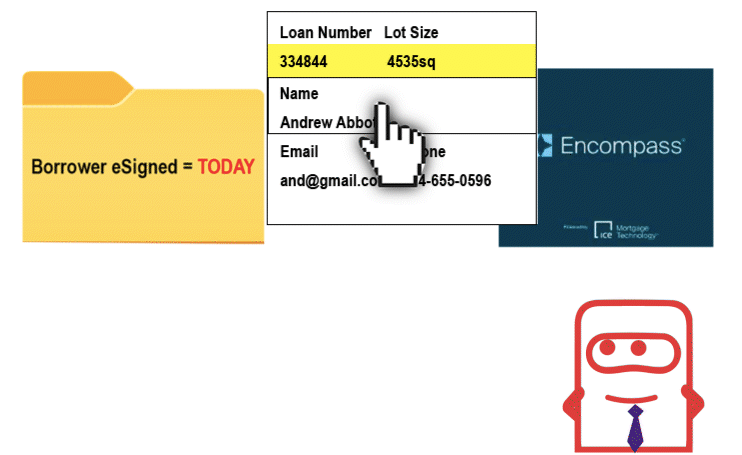 Other automatable tasks:
Credit risk modeling
Review flood and fraud reports
Review appraisal
Review mortgage insurance
Pre-closing credit refresh – perform final credit check before loan closes
QC review of loan to check for adherence to lender guidelines and compliance.
Denial letters – identify loans to be denied and send denial letter to applicant.
Closing disclosures – send a closing disclosure package within the LOS.
MERS registration – register loans in Mortgage Electronic Registrations System; send email authorization notification to settlement agency that funds are ready to be released.
Compliance checks.
Managing escrow.
Payoff quotes – create and send payoff quotes when a request is received.
PMI admin / cancelation – when borrower equity reaches 20%, cancel PMI.
Delinquency management.
Escrow management.